Business Continuity Management Systems
Business Continuity Management Systems (BCMS) is a part of the overall management system of an organization. It is used to establish, implement, operate, monitor, review, maintain and improve the organization's own business continuity. It is to identify potential threats to the organization and these threats. Once a set of management processes can occur that can have an impact on business operations. The implementation of this certification is based on the international standard GB/T30146/ISO22301.
GB/T30146/ISO22301 is the standard for establishing and maintaining a business continuity management system. It sets requirements for planning, establishing, implementing, operating, monitoring, reviewing, maintaining and continuously improving a documented business continuity management system. Protection, reducing the likelihood of an interrupt event occurring, and preparing, responding, and recovering when an interrupt event occurs.
Description of Product :
BCMS adopts the PDCA process method to help organizations avoid potential incidents by identifying, analyzing and alerting risks, and to develop a complete "business continuity plan" to effectively cope with the rapid recovery after the interruption and keep the core functions normal. Run to minimize loss and recovery costs./p>
BCMS is a collection of processes that link and unify all aspects of an organization's management system, develop appropriate risk strategies and risk plans for identified risks, and develop an effective business continuity plan drill for the organization. Measurement plan. BCMS is widely used in social service industries such as information security, information technology services, public services, and social organizations. It is also applicable to organizations with higher risk levels such as commercial, financial, and manufacturing industries of all sizes.
Business Impact Analysis (BIA) is one of the core processes of BCMS. It determines the priority, recovery order, and metrics of a product or service by assessing the impact of an organization's product or service activity disruption. The BIA includes several steps such as business scoping and data collection analysis, business importance analysis, resource analysis, prioritization, and recovery order.
Implementation Benefits:
◆ Ability to identify the impact of a business disruption in advance;
◆ Have ready-to-use effective interrupt response measures to minimize the impact of disruptions on the organization;
◆ Prevent in advance to reduce the impact of emergencies;
◆ Make your core business function in times of crisis;
◆ Ability to demonstrate a credible incident response through the drill process;
◆ Can improve the credibility of the organization;
◆ Gain a competitive advantage through proven ability to maintain service and product delivery;
◆ Show your customers and suppliers the resilience and resilience of your company to emergencies;

Service Introduction: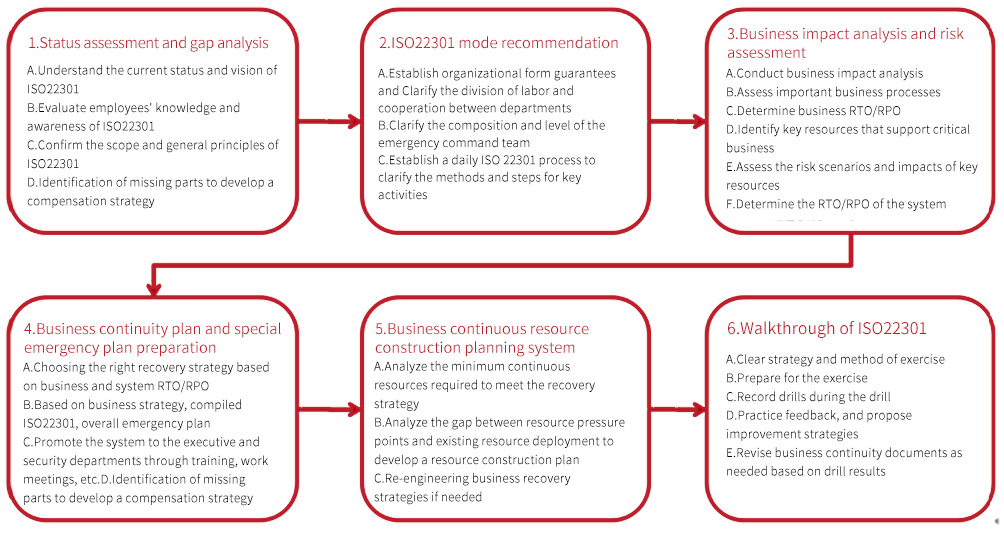 The Reason for Choosing STR:
1. Rich experience in IT field
Based on the qualification consulting services provided in the IT field, the company has successfully applied for various qualification certificates in the IT field for nearly 200 customers. He has accumulated rich experience in customer needs, system establishment, implementation integration and guidance in the IT field.
2. Project 100% pass rate
3. Professional, quality consulting resources
The company has more than 30 systems and qualification consultants. The consultants are from the world's top 500 companies, professors and experts from all over the country, and have rich theoretical and practical experience. It can provide close consultation and counseling for enterprises in combination with standard requirements.
4. Customer data confidentiality system
The company implements an information security management system internally and strictly protects and archives customer data. Maximize the security, integrity and availability of your customers' finances, people and related management information
5. Full project monitoring and management
The company implements the quality management system and project management system internally, and supervises and manages the consulting work through the company's OA system to ensure timely and satisfactory delivery of consulting services.
6. Domestic and international authoritative partners support
Stern Consulting cooperates with international and domestic well-known certification and consulting companies to enter a large number of technical seminars every year to ensure that customers provide international advanced standards and management consulting services.
7. Technical seminars and industry information priority access
From time to time, we will hold new standards, IT industry trends, and excellent case discussions with IT-related industry associations, standards research institutes, and product manufacturers to ensure that customers receive priority access to market information and technical information in the same industry.